"Kazan has indeed seared my brain with its brand".


"I don't know any other city in the world there hospitality would be more wide-spread and would be so casual as in Kazan". Edward Turnerelli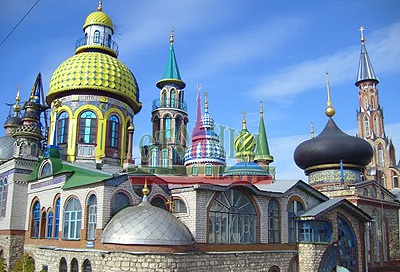 "This city is home to Orthodox and Catholic Christians, Muslims, Protestants, Jews and other smaller religions. What's crazy is that they are all welcomed by local government and given free rain to display symbols of their faith proudly".


"What's even crazier is that everyone, no matter how different, speaks Russian".

"I've seen a unique part of the world in which eastern and western cultures coexist harmoniously".
Worth visiting…
«The Kazan Kremlin was really the star of our very successful visit to Kazan. The Kremlin was absolutely stunning. Right from the pristine white of the walls and the mosque right through to the well looked after flower beds the place was absolutely spotless. I recommend anyone visiting Kazan to make it a priority to see during their stay».
[TheEagleGuy, www.tripadvisor.com]
"Apparently an Italian architect was involved with the building of this church and this is particualrly noticeable from the decorations on the exterior of the cathedral" – it was said about Saint Peter and Saint Paul Cathedral.
[TheEagleGuy, www.tripadvisor.com]


"A friend asked me to describe my first impressions of what Kazan' was like. That's tough. I've never seen anything like it. I envision a 10-th century artist commissioned to paint a highly detailed portrait of purgatory using only bright shades of blue, purple, orange and green, all while strapped to an i-v that provides a steady dose of psilocybin. This place is literally out of this world".
[http://samueljameshotop.blogspot.com]